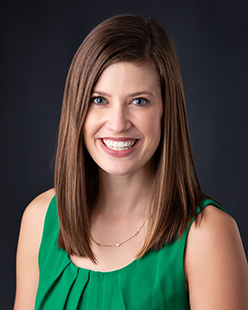 Dr. Cate Hildebrand is overjoyed to return to her hometown of Tulsa. She has close friends and family members in town and is so happy to be close to them again. She graduated from Metro Christian Academy as Salutatorian in 2005. She earned her Bachelor of Science degree in Biology from Pepperdine University in California with magna cum laude distinction and her Doctorate of Medicine from the University of Oklahoma, where she was also inducted into Alpha Omega Alpha. She attended OBGYN residency at the University of Oklahoma from 2013-2017.
During her OBGYN training, she served as a member of the hospital ethics committee and resident council. She is very interested in patient rights and advocating for her patients. She received several teaching awards and loves the process of learning and sharing knowledge with others. She looks forward to caring for women throughout adolescence, pregnancy and into older adulthood. She always strives to be a good listener and a positive person looking for the good in all experiences.
​Cate and her husband Daniel have an infant daughter and a wheaten terrier named Lizzy. She enjoys being outdoors, cooking recipes from Bon Appetit magazine and taste-testing Daniel's homebrewed beer. She grew up dancing ballet and performed professionally while in California. She has always loved attending Tulsa Ballet performances and looks forward to supporting the arts in Tulsa.