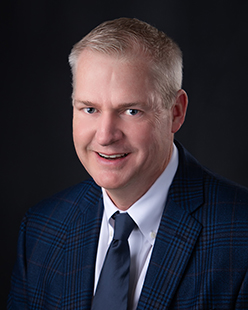 Dr. Grant Cox is excited to be a part creating OB/GYN Specialists of Tulsa. He brings to the practice considerable knowledge and skill in all aspects of OB/GYN, especially infertility and gynecologic surgery. He finds it most rewarding when he can help an infertile couple or a patient with recurrent miscarriages conceive and carry a baby to birth. He feels that all deliveries are special, but those couples that have been through challenges create a moment of absolute awe when they hold their baby for the first time.
Dr. Cox received his undergraduate degree in 1992 from University of Oklahoma. In 1996, he completed his Doctor of Medicine at the University of and continued his education over the next four years as an intern and resident in Obstetrics and Gynecology through the University of Oklahoma.
Dr. Cox earned his board certification in 2003 through the American Board of Obstetrics and Gynecology. He is licensed to practice OB/GYN through the State of Oklahoma.
Dr. Cox has been honored as an officer within the American College of OB/GYN on a state and district level. He feels that it is very important for an obstetrician who sees patients every day to assist with the implementation of policy on a national level. Also, through the ACOG organization, Grant has been very involved in programs reducing teen pregnancies throughout Oklahoma. He is very passionate about making sure our teens and young adults make good choices. Dr.Cox is one of the early adopters of a new type of adolescent visit that almost never requires a pelvic exam. He wants adolescent females to learn about their gynecological health without feeling threatened or having a difficult experience.
Grant and his wife live in midtown Tulsa and are the parents of boy/girl twins. His personal experience as a husband whose wife delivered prematurely, and as the parent of children who spent their first days in the neonatal intensive care unit, has only caused him to be a much more compassionate obstetrician.