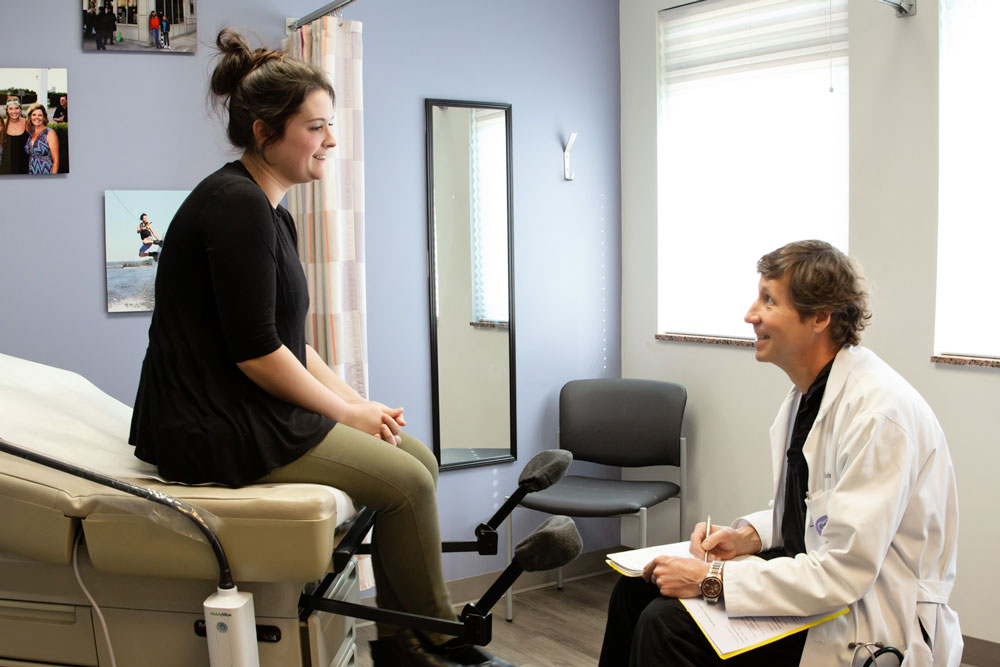 Robotic procedure minimizes recovery time, increases pregnancy success
Dr. Paul J. Gehring is one of the only doctors in this part of the country who performs robotic abdominal cerclage, a procedure that treats incompetent cervix leading to pregnancy loss. He treats both local and out-of-town patients needing this procedure for successful full-term pregnancies.
Pregnancy loss at any stage is one of the most difficult experiences women face. The further into pregnancy this occurs, the more devastating it becomes.
Incompetent cervix leads to pregnancy loss usually in the 18- to 28-week range. It is typically treated during pregnancy with abdominal cerclage in which the cervix (the opening to the uterus) is vaginally sewn shut. An open-surgery procedure, abdominal cerclage involves a two-night stay in the hospital and four to six weeks of recovery. In some women, this also fails, leading to another devastating loss.
These most difficult cases, those resulting in multiple pregnancy losses, have been successfully treated by Dr. Gehring with robotic abdominal cerclage. The robotic procedure takes only about two hours and a recovery period of just a few days, usually over the weekend. Patients check in on Thursday for a Friday procedure that involves only a few small abdominal entry points. The patient is usually home by Monday, if not earlier.
Robotic abdominal cerclage can be used for multiple pregnancies. (Babies are delivered by cesarean section when the mother has had an abdominal cerclage.)
Dr. Gehring conducts a complete history physical exam to determine each patient's candidacy for the procedure. Records of previous pregnancies are welcome and helpful in determining the most appropriate treatment course. Out-of-town patients can request a nurse consult and forward their records to determine their candidacy for robotic abdominal cerclage.
Dr. Gehring has been advancing gynecologic surgery in Oklahoma for over 20 years. He completed his residency in 1993 at one of the largest programs in the country, Baylor College of Medicine in Houston, Texas.  Following residency, he completed a year-long fellowship at The Woman's Hospital of Texas in pelvic surgery to advance his skills in complicated gynecologic surgery. This training included microsurgical, advanced laparoscopic, pelvic organ prolapse and incontinence, severe endometriosis, severe pelvic adhesions, and infertility, among others.
To schedule an appointment, call 918-712-8700.